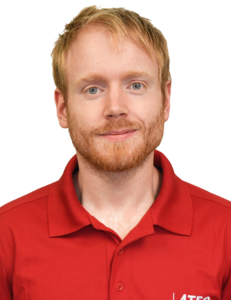 Livonia, Michigan (July 9, 2019) – ATEQ TPMS Tools, LC is proud to announce Elliot Morin's arrival to the Sales and Technical Support team. Morin will be responsible for aiding customers in troubleshooting and training for ATEQ TPMS tools as well as TPMS Tools with "powered by ATEQ" software.
Morin will be able to assist customers in both English and in French. He will be located in the Canada ATEQ office.
Before Morin's arrival to ATEQ TPMS, he worked in customer service at Nissan, Honda and Kia. In these roles, he was able to support customers in both English and French.
"I chose ATEQ TPMS because I saw that I was able to utilize skills that I already have as well as develop new ones," Morin said. "I am looking forward to developing my technical skills here at ATEQ TPMS.
"Adding Elliot to the team will enhance the level of support for both ATEQ sales and service. Elliot will play a key role in supporting our customers at the right time every time," said Desart Dinkollari, Operations Manager. "We trust that Elliot will give 100% in assisting our customers, as ATEQ will stand by him to make sure that a high level of support is achieved where Elliot can implement everything as needed to properly support Canada in all aspects of business."
Canadian TPMS customer and technical support is available via email at support@ateqtpmsusa.com five days per week, Monday through Friday, 8:00 a.m. – 6:00 p.m.
ATEQ Canada
4-2355 Royal Windsor Drive
Mississauga, ON L5J 4S8
Canada
Email: info@ateq.ca
Office: 877-666-5325
About ATEQ TPMS Tools
ATEQ TPMS, a division of ATEQ, is the leading manufacturer of TPMS (Tire Pressure Monitoring System) diagnostic tools and solutions, chosen by Automotive and Commercial Vehicle Aftermarkets, OEMs and Assembly Lines and used by the broadest spectrum of customers globally.
Media Contact
Emily Humpert – ehumpert@ateqtpmsusa.com