Novi, MICH. – ATEQ TPMS Tools, LC, leader of TPMS Tool solutions for the OE, Industrial and Aftermarket industries has recently announced their final promotion for the year. Interested tool users can purchase either a 1-year or 3-year software subscription for the VT56 tool and receive a free tire inflator.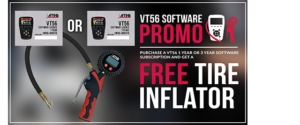 Included in the software subscription is one or three years of monthly and Live Sensor updates. By purchasing a subscription, the tool can be updated as many times as needed throughout the subscription period, and as updates are released by ATEQ. Updates are essential to tool users as they provide new vehicle and OE/Aftermarket sensor coverage to the tool, as well as access to new features and functions. 
"Keeping your ATEQ TPMS tool up-to-date is so essential for the tool user. At ATEQ we place high priority on making sure our users are receiving consistent updates with sensor coverage as well as the latest and greatest features. By purchasing a software subscription the user gets all of these updates to ensure they never miss out on the newest sensors, and the latest innovative features," said Global Aftermarket TPMS Manager Eri Muca.
The ATEQ tire inflator that comes with the software subscription purchase can be used on car, truck, SUV, and bicycle tires. The inflator features a large, easy-to-read gauge, and a clip-on air chuck for one handed operation. 
Orders can be placed by contacting lhauk@ateqtpmsusa.com before December 31, 2022. This promotion is valid for North America only. 
About ATEQ TPMS Tools
ATEQ TPMS Tools, LC is a division of ATEQ which was founded in 1975. We are the number one world supplier in the TPMS (Tire Pressure Monitoring System) field by supplying an entire range of TPM activation tools for both assembly lines and tire repair shops. ATEQ is a perseverant global family of passionate individuals who are driven by our customers to innovate industry-leading TPMS devices and technology that help suppliers and distributors worldwide.
Media Contact
Lauren Hauk – Communications Specialist – lhauk@ateqtpmsusa.com