When a technician has a customer with a TPMS MIL in the shop, their goal is to find the solution to "turn the light off". However, important technological factors behind the TPMS tool you are using plays a significant role in whether a customer's TPMS issue is solved safely, or just turning the light off and sending the customer home. Furthermore, another drawback to a "good enough" TPMS solution is when a customer comes back to the shop with the same issue, frustrated, and now feeling that the shop is less trustworthy.
Quality TPMS solutions are much more than the hype of new and unique features a TPMS tool can bring to the table. It is the technology built-in that creates the value of the tool and ensures the customer's safety when fixing a vehicle. Relationships that TPMS tool companies have with OE manufacturer plays a huge role in how TPMS tools perform with reading and activating sensors, as well as communicating via the OBDII module portal to the vehicle's ECU. Compliance with OEM car manufacturers, sensor manufacturers, and wheel assemblers is the only way to have proper OEM sensor and car communication information. "It is crucial to work with OEMs to obtain the correct information to read and activate TPMS sensors as well as decode OBDII information. An OEM standard tool means it is future-proof, so it will last in the shop environment for years to come and works right out of the box every time," said Eri Muca, North American Sales Manager at ATEQ TPMS Tools.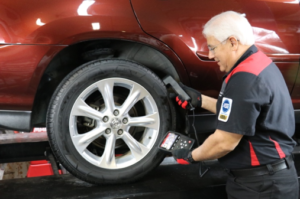 TPMS tool companies who have direct communication with OEMs allow independent shops to securely service tires with OE standards. "We choose the tools we work within the shop because the companies provide OE-compliant information that is needed to diagnose and service vehicles," commented Jeff Buckley, Owner of My Father's Shop in Midlothian, Texas. "Using a TPMS tool, or other tools in the shop that work with OEMs ensures the vehicle will be repaired properly, using OE standards and industry standards. In the end, we want to repair vehicles the right way, the first time, every time. This builds the customers confidence and improves the reputation of independent shops in the industry."
Of course, there are TPMS solutions in the industry that will help turn the TPMS light off, which is "good enough" for some shop owners. However, be aware that without proper diagnostics and solutions with OE standards, the "backward engineering" can set shops back and cause much more time and money than if they worked with an OE-compliant tool in the first place.
This article is featured in Tire Review Magazine, June 2018.