Livonia, Michigan:  ATEQ is proud to announce the new June software release for the VT36, VT55 and VT56 TPMS tools.
The software update includes new OE coverage, improved programmable sensor coverage, new functionalities and corrections.
New version now available:
VT36 version Hx1-10-03
VT55 version CA2-20-03
VT56 version DA1-20-22
New features:
VT36: Remote Key Entry (RKE) test available to test the strength of the RF signal of the keyfob.
VT36: Recent Sensor Data available, view the most recent vehicle's sensor information.
VT56: WIFI function now active for all users. Wi-Fi pairing with WebVT will assist in transferring jobs from your VT56 TPMS tool to WebVT once upgraded Web VT 8.10.0.0.
Minor text adjustments.
New content for North America:
New 2017 OE sensor coverage for: Alfa Romeo Giulia; Dodge Charger, Journey, and RAMs; Fiat 500, 500L and 500X ; Ford C-Max, Edge, Escape, Expedition, Explorer, Fiesta, Flex, Focus, Focus RS, F-Series, Fusion, GT, Mustang, and Transit Connect; Infinity Q50-60-70, and QX30-50-60-70-80; Jaguar XJ; Lexus CT, ES, GS, GX, IS, LC, LS, LX, NX, RC, and RX; Maserati Ghibli and Quattroporte; Nissan 370Z, Frontier, GT-R, Juke, Leaf, Murano, NV, Pathfinder, Quest, Rogue, Sentra, Titan, and Versa; Toyota 4 Runner, Avalon, Camry, CH-R, Corolla, Highlander, Land Cruiser, Mirai, Prius, Prius C, Prius V, RAV4, Sequoia, Sienna, Tacoma, Tundra, and Yaris.
Updated 2012-2017 OE sensor/TPMS information for: Chrysler and Dodge SRT models, Ferrari F430, Fiat 124 Spider, Kia Sportage, Nissan Juke and Sentra, Subaru Crosstrek, Toyota Alavon, RAV4 and Tundra.
New aftermarket sensor updates for: Alligator Sens.It, Schrader EZ sensor, HUF Intellisens, Hamaton Upro, Mobiletron, Orange Universal, BWD Standard QWIK sensor, NAPA QWIK, Steelman Select, MAX T.O.T.A.L, and Dynamic Pro-Select.
Download/print tech release June 2017 – North America
VT36 RKE TEST
VT36 RECENT SENSOR DATA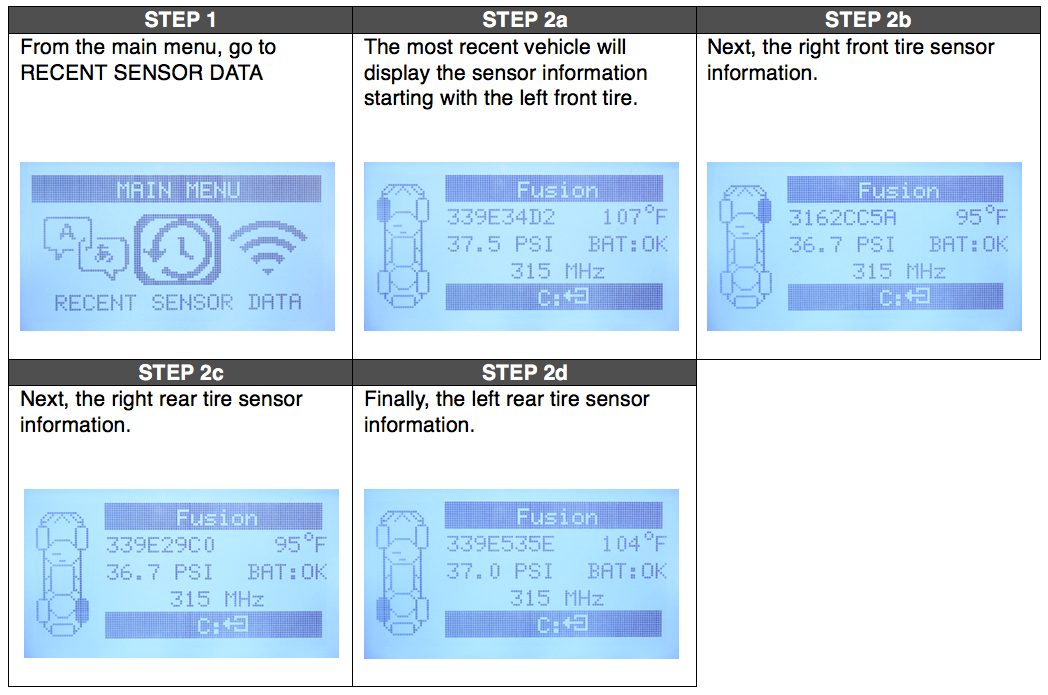 VT56 WEBVT WI-FI SOFTWARE UPDATE