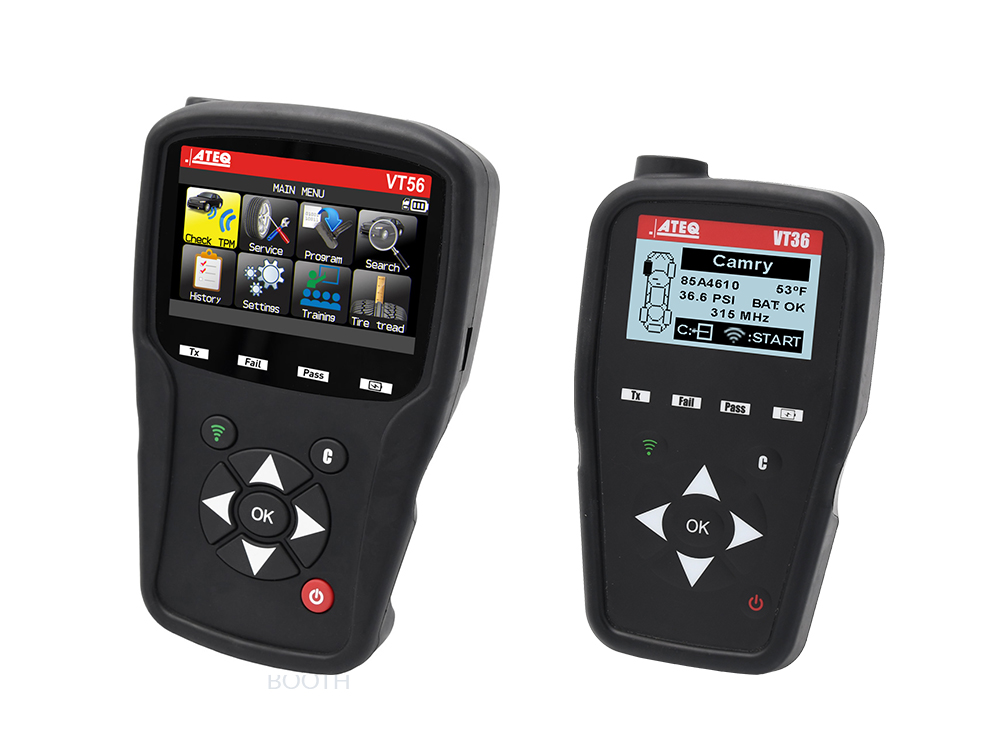 Livonia, Michigan:  ATEQ is proud to announce the new March software release for the VT56 and VT36 for the America's region.
New version now available:
VT56 version DA1-29-14
VT36 version HA1-17-06
Placard Adjustment (VT56)
New "Placard value adjustment" feature available, coverage includes GM and Ford vehicles. This function allows users to adjust the standard placard value settings by transferring the new values to the vehicle's ECU using an OBD module. This is used when changing tires to a different load index than OE tires, such as off-road tires, oversized tires, or low profile tires, to maintain the TPMS system in operation and avoid the TPMS warning light to show.
Instructions for placard adjustment:
From the main menu, navigate to SERVICE TPMS
Select the vehicle's  MAKE, MODEL and YEAR
Select the PLACARD icon
Select OK after reading the disclosure to continue
Connect the OBDII module to the tool, turn the ignition on
Select the correct placard pressure according to the new tires specifications, starting with the front wheel axle (left front, right front tires)
Connect the OBDII module to the vehicle's DLC
Select the green button to write the placard pressure to the vehicle's ECU
Continue step 6-8 for the back wheel axle (left rear, right rear tires)
Step by step instructions shown on tool: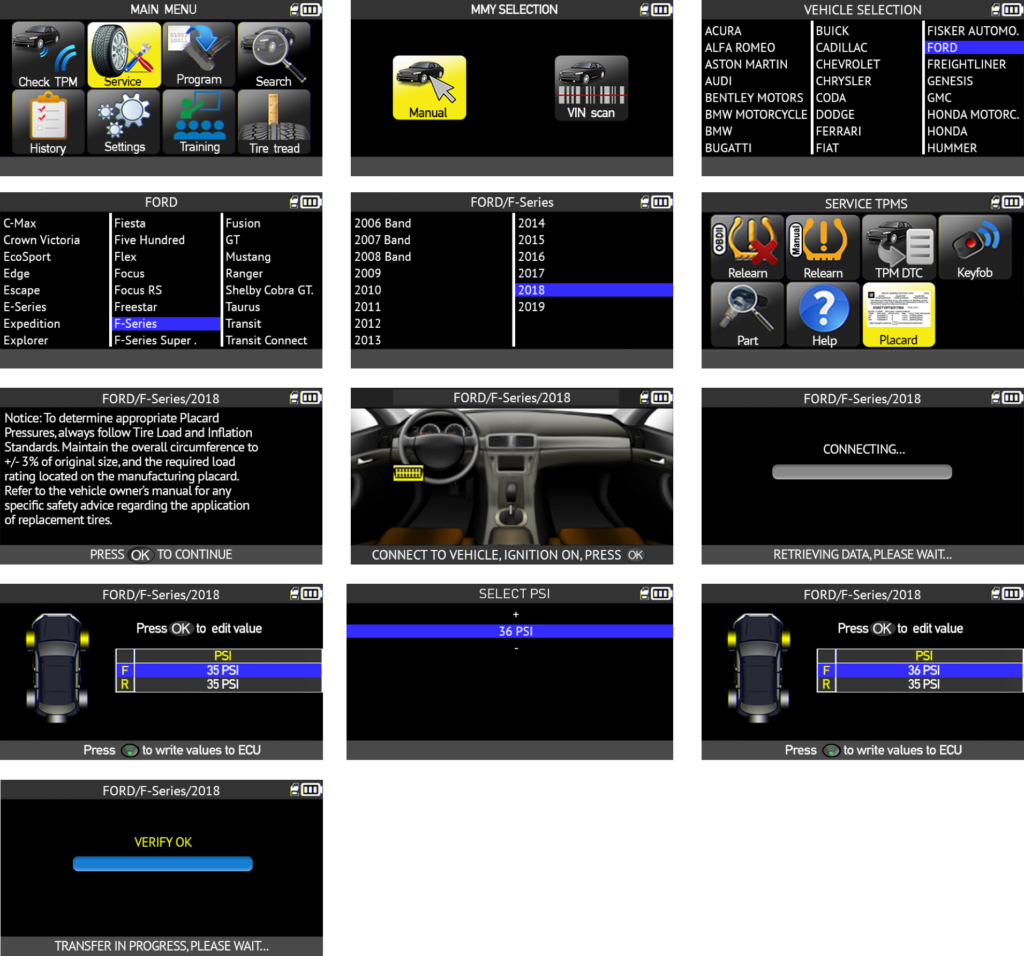 Brand new models added (VT56, VT36)
Audi Q8; BMW X4 (G02), X5 (G05), 8 Series (G14 G15 G16); Chevrolet Blazer; Honda Insight; Jeep Gladiator; Lexus UX; McLaren 600LT; Mercedes-Benz AMG GT, B Class (W247), CLA Class (118); Porsche 911 (992); Ram 1500 (DT); Rolls-Royce Black Badge; Toyota GR Supra
Updated OE sensor / relearn information (VT56, VT36)
Acura ILX, NSX; Alfa Romeo 4C, Giulia, Stelvio; Aston Martin Rapide S, Vanquish S; Audi Quattro, A3, S3, A4, S4, A5, S5, A6, A7, S7, A8, S8, Q5, Q8, TT; Bentley Mulsanne; BMW X1, X2, X4;
Buick Cascada, Enclave, Envision; Chevrolet Blazer, Bolt EV, Colorado, Equinox, Malibu, Silverado, Spark, Suburban, Tahoe, Traverse, Trax; Cadillac ATS, CT6, Escalade, XT4, XT5, XTS;
Chrysler Pacifica; Dodge Challenger, Charger, Durango, Grand Caravan; Fiat 124 Spider, 500L, 500X; Ford Expedition, Transit Connect; GMC Acadia, Canyon, Sierra, Terrain, Yukon;
Honda Accord, Civic, Clarity, CR-V, Insight; Hyundai Sonata, Tucson; Infiniti QX30; Kia K900; Jeep Cherokee, Compass, Gladiator, Grand Cherokee, Renegade, Wrangler; Lamborghini Huracan; Lexus IS, LC, LS, UX Series; Maserati GranTurismo; Mazda 3, 6, CX-5; Mercedes CLS, GL, Metris, SLC, SLK Class; Nissan GT-R, Juke, Kicks, Maxima, Murano, Pathfinder, Qashqai, Versa, Versa Note; Ram Promaster, 1500, 2500, 3500, 3500 Dually, 4500, 5500; Tesla Model 3, S, X;
Toyota Rav4; Volkswagen Atlas, GTI, Golf, Tiguan, Touareg; Volvo S90, V90, XC40
Updated aftermarket sensor coverage (VT56, VT36)
Alligator Sens.It, Schrader Performance EZ sensor, Huf IntelliSens, Huf ECS, Hamaton U-Pro Hybrid 2.0, Mobiletron, Orange Universal, BWD Standard QWIK sensor, NAPA QWIK, Steelman Select, PDQ Programmable, MAX T.O.T.A.L, Dynamic Pro-Select, and Dill 5001.

Download VT56 March 2019 software update release notes
Download VT36 March 2019 software update release notes
To view/download the technical release for other VT56 or VT46 brands for the America's region, please contact sstevens@ateqtpmsusa.com.