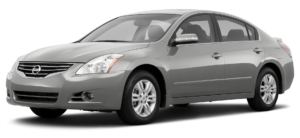 NISSAN ALTIMA 2007 – 2011
After the TREAD Act was mandated in 2007, all vehicles manufactured in the United States beginning in 2008, must be installed with direct or indirect TPMS systems.
The Nissan Altima uses a direct TPMS system, which means TPMS sensors are installed in the wheel. If one or more tires indicate low tire pressure, the TPMS sensors will transfer the information to the vehicle's ECU. An indicator light (low-line TPMS system) or each tire pressure will show on the dash (high-line TPMS system).
When a tire is inflated, rotated or changed in one or more tires of a Nissan Altima, a TPMS relearn must be performed to write the ID's to the vehicle.
Type of TPMS system:
Direct TPMS, TPMS sensors are installed in the wheel, tire pressure is communicated via radio frequency (RF) technology from the sensor to the vehicle's ECU
Type of OE sensor:
Part number 40700-JA01B, Schrader Clamp-in Gen2/3 315MHz Nissan
Aftermarket (Universal, Hybrid, Programmable, Configurable, One-to-One, OE-style) options for TPMS sensor replacement:
All programmable, configurable, hybrid and OE-type (one-to-one) TPMS sensor options and service kits can be found in the VT56, VT55, and VT36 TPMS Tools.
Type of TPMS frequency:
Type of Relearn procedures:
Type of TPMS tool required for TPMS reset:
VT56 TPMS scan tool with OBDII module
OBD relearn procedure:
OBDII dongle is required
Confirm TPMS sensors are properly installed
Adjust tire pressures to placard value
Hold TPMS tool on left front tire sidewall next to valve stem
Repeat for the right front, right rear and left rear tires
Apply OBD module to the DLC
Turn ignition ON
Press OK on TPMS tool to transfer sensor data to the ECU
Disconnect OBD module from DLC
Turn ignition OFF, then ON
Drive for up to 20 minutes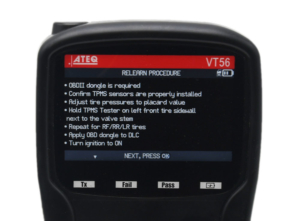 Troubleshooting tips
Some Nissan models DLC's are designed differently than other vehicles. This can cause a transfer failure if the connection between the OBDII module and DLC is weak. If you come across a transfer failure issue with the Nissan, try to put upward pressure on the OBDII module, this will ensure a good connection, and the TPMS sensor ID's will now successfully transfer to the vehicle's ECU.
If your Nissan has a push-button start ignition, try this tip if there is a transfer failure issue. There are two modes for the Nissan's push-button start, ACC for accessories, and ON. Make sure to press twice to reveal ON during the relearn procedure when the step requires the ignition to turn on before transferring the TPMS sensor ID's.
Nissan TPMS DTC Codes
NISSAN 15 – LF Low Pressure
NISSAN 16 – RF Low Pressure
NISSAN 17 – RR Low Pressure
NISSAN 18 – LR Low Pressure
NISSAN 21 – LF No Data
NISSAN – 22 – RF No Data
NISSAN 23 – RR No Data
NISSAN 24 – LR No Data
NISSAN 31 – LF Checksum Error
NISSAN 32 – RF Checksum Error
NISSAN 33 – RR Checksum Error
NISSAN 34 – LR Checksum Error
NISSAN 35 – LF Pressure Data Error
NISSAN 36 – RF Pressure Data Error
NISSAN 37 – RR Pressure Data Error
NISSAN 38 – LR Pressure Data Error
NISSAN 41 – LF Code Error
NISSAN 42 – RF Code Error
NISSAN 43 – RR Code Error
NISSAN 44 – LR Code Error
NISSAN 45 – LF Battery Volt Low
NISSAN 46 – RF Battery Volt Low
NISSAN 47 – RR Battery Volt Low
NISSAN 48 – LR Battery Volt Low
NISSAN 51 – Receiver ID Registration Not Completed
NISSAN 52 – Vehicle Speed Signal Error
NISSAN 53 – TPMS Control Unit
NISSAN 54 – Vehicle Ignition Signal
NISSAN 55 – Low Communication Performance LF
NISSAN 56 – Low Communication Performance RF
NISSAN 57- Low Communication Performance RR
NISSAN 58 – Low Communication Performance LR
NISSAN 6 – LF Flat Tire
NISSAN 7 – RF Flat Tire
NISSAN 8 – RR Flat Tire
NISSAN 9 – LR Flat Tire
NISSAN C1704 – LF Low Pressure
NISSAN C1705 – RF Low Pressure
NISSAN C1706 – RR Low Pressure
NISSAN C1707 – LR Low Pressure
NISSAN C1708 – LF No Data
NISSAN C1709 – RF No Data
NISSAN C1710 – RR No Data
NISSAN C1711 – LR No Data
NISSAN C1712 – LF Checksum Error
NISSAN C1713 – RF Checksum Error
NISSAN C1714 – RR Checksum Error
NISSAN C1715 – LR Checksum Error
NISSAN C1716 – LF Pressure Data Error
NISSAN C1717 – RF Pressure Data Error
NISSAN C1718 – RR Pressure Data Error
NISSAN C1719 – LR Pressure Data Error
NISSAN C1720 – LF Code Error
NISSAN C1721 – RF Code Error
NISSAN C1722 – RR Code Error
NISSAN C1723 – LR Code Error
NISSAN C1724 – LF Battery Volt Low
NISSAN C1725 – RF Battery Volt Low
NISSAN C1726 – RR Battery Volt Low
NISSAN C1727 – LR Battery Volt Low
NISSAN C1728 – Receiver ID
NISSAN C1729 – Vehicle Speed Signal Error
NISSAN C1730 – LF Flat Tire
NISSAN C1731 – RF Flat Tire
NISSAN C1732 – RR Flat Tire
NISSAN C1733 – LR Flat Tire
NISSAN C1734 – TPMS Malfunction In BCM
NISSAN C1735 – Ignition Signal Line – BCM/TPMS
NISSAN C1750 – LF Receiver
NISSAN C1751 – RF Receiver
NISSAN C1752 – RR Receiver
NISSAN C1753 – LR Receiver
NISSAN C1754 – TPMS Control Unit
NISSAN C1755 – LF Poor Receiving Conditions
NISSAN C1756 – RF Poor Receiving Conditions
NISSAN C1757 – RR Poor Receiving Conditions
NISSAN C1758 – LR Poor Receiving Conditions
NISSAN No Blinking – Tire Pressure Warning Check Switch
NISSAN U1000 – CAN COMM Circuit
NISSAN U1010 – CONTROL UNIT(CAN)