NISSAN TITAN, 2004-2019
After the TREAD Act was mandated in 2007, all vehicles manufactured in the United States beginning in 2008, must be installed with direct or indirect TPMS systems.
The Nissan Titan has used a direct TPMS system since 2004, which means TPMS sensors are installed in the wheel. If one or more tires indicate low tire pressure, the TPMS sensors will transfer the information to the vehicle's ECU. An indicator light (low-line TPMS system) or each tire pressure will show on the dash (high-line TPMS system).
When a sensor is replaced in one or more tires of a Nissan Titan, an OBD TPMS relearn is recommended to write the ID's to the vehicle's ECU.
Type of TPMS system:
Direct TPMS, sensors are installed in the wheel
Type of TPMS frequency:
Type of Relearn procedures:
Below, you will see the TPMS reset procedure for the Nissan Altima and Nissan Rogue. The same steps will work with the Nissan Titan.
Type of TPMS tool required for TPMS reset
OBD relearn procedure: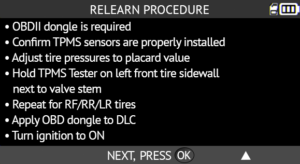 OBDII dongle is required

Confirm TPMS sensors are properly installed

Adjust tire pressures to placard value

Hold TPMS tool on left front tire sidewall next to the valve stem

Repeat for the right front, right rear and left rear tires

Apply OBD module to the DLC

Turn ignition ON

Press OK on TPMS tool to transfer sensor data to the ECU

Disconnect OBD module from DLC

Turn ignition OFF, then ON

Drive for up to 20 minutes
Troubleshooting tips
Some Nissan models DLC's are designed differently than other vehicles. This can cause a transfer failure if the connection between the OBDII module and DLC is weak. If you come across a transfer failure issue with the Nissan, try to put upward pressure on the OBDII module, this will ensure a good connection, and the TPMS sensor ID's will now successfully transfer to the vehicle's ECU.
Some Nissan Titan years use different frequencies, 315 MHz or 433 MHz, for the Nissan Titan. We recommend checking the sensor frequency before replacing a TPMS sensor. Use the VT56, VT55, VT36 or VT31 to diagnose the sensor frequency by activating the sensor; the tool will display which frequency you are working with.
Some Nissan Titan vehicles are installed with alloy wheels, where others are installed with steel wheels, which means the OE sensors installed may have different part numbers. Be sure to select the correct wheel on the menu of the VT56 or other Powered by ATEQ tools when performing a relearn.
TPMS DTC code information
Use the VT56 to retrieve Nissan TPMS DTC codes by selecting the "Service" icon. After selecting the Make, Model, and Year, select the DTC code icon. Use the OBDII module to retrieve the Nissan DTC TPMS information to diagnose and service the TPMS issues determined.