Under the TREAD (Transportation Recall Enhancement, Accountability, and Documentation) Act, all vehicles manufactured in North America after 2007 must be equipped with either an indirect or direct TPMS system. 
Indirect TPMS System: No TPMS sensors are installed in the wheel.

Direct TPMS System: TPMS sensors are installed in all four wheels and spare tire (if applicable).
The 2021 Ford Bronco uses a direct TPMS system. If one or more tires indicate low tire pressure, the TPMS sensors will transfer the information to the vehicle's ECU and the driver will be notified. An indicator light (low-line TPMS system) or each tire pressure (high-line TPMS system) will show on the dash.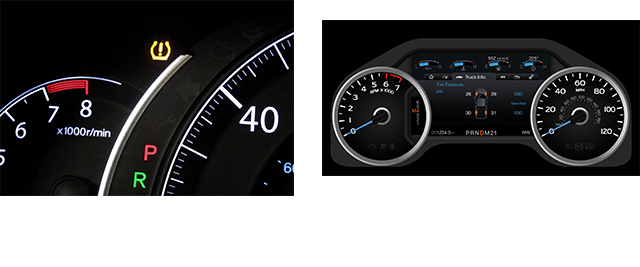 When one or more sensors are replaced in a Ford Bronco, a TPMS relearn is recommended to write the IDs to the vehicle's ECU to turn the TPMS light off.
Type of Relearn procedures: 
Manual Relearn (standard ignition and push-button start)

Bonus OBD relearn procedure coverage as an option on the VT56, VT57 and VT67. Requires OBD module 
Type of TPMS tool required for TPMS reset:
Manual relearn procedure (push-button start):
Important note, some models require the start button to be pressed twice (without pressing the brake) to enter RUN mode (Ignition ON/Engine OFF). If this is the case, modify steps 3 and 5 as noted.

Engage the parking brake and inflate all tires

With the vehicle OFF, push and release the brake pedal

Push START button 5 times (NOTE: 8 times if 2x-to-RUN)

Press and release the brake pedal

Push START button 6 times (NOTE: 9 times if 2x-to-RUN)

A single horn chirp will indicate the relearn mode is active

Use the tool to activate the left front sensor

A single horn sounds to indicate sensor learning successful

Repeat for right front, right rear and left rear tires

TRAINING MODE COMPLETE will display on the message center when relearn is finished
The video shows a 2019 Ford Edge, but the same procedure will work on the 2021 Ford Bronco
OBD relearn procedure:
OBDII module is required, attach to the tool

Confirm TPMS sensors are properly installed

Adjust tire pressure to placard value

Hold TPMS tester on left front tire sidewall next to the valve stem, use TPMS tool to activate the sensor

Repeat for the right front, right rear and left rear sensors

Apply OBD module to DLC

Turn ignition to ON

Press OK on TPMS tool to transfer data to ECU

Disconnect OBD module from DLC

Turn ignition OFF then start the engine

Drive for at least 5 minutes at 28 mph
Troubleshooting tips
Each tire, including the spare (if provided), should be checked monthly when cold and inflated to the inflation pressure recommended by the vehicle manufacturer on the vehicle placard or tire inflation pressure label. (If your vehicle has tires of a different size than the size indicated on the vehicle placard or tire inflation pressure label, you should determine the proper tire inflation pressure for those tires).

When the outside temperature drops significantly, the tire pressure could decrease and activate the low tire pressure warning lamp.
About ATEQ TPMS Tools
ATEQ TPMS Tools, LC is a division of ATEQ which was founded in 1975. We are the number one world supplier in the TPMS (Tire Pressure Monitoring System) field by supplying an entire range of TPM activation tools for both assembly lines and tire repair shops. ATEQ is a perseverant global family of passionate individuals who are driven by our customers to innovate industry-leading TPMS devices and technology that help suppliers and distributors worldwide.
Media Contact
Emily Humpert – ehumpert@ateqtpmsusa.com