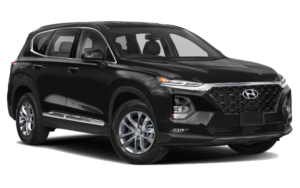 Over the next couple of months, we will be reviewing the best-selling Cars, SUVs, Minivans, and Trucks of 2019. During the month of April, we will focus on the best-selling SUVs in 2019 in the United States.  

After the TREAD Act was mandated in 2007, all vehicles manufactured in the United States beginning in 2008, must be installed with direct or indirect TPMS systems.
The Hyundai Santa Fe is manufactured with a direct TPMS system. Direct TPMS has TPMS sensors are installed in the wheel; if one or more tires indicate low tire pressure, the TPMS sensors will transfer the information to the vehicle's ECU.  An indicator light (low-line TPMS system) or each tire pressure will show on the dash (high-line TPMS system). 
Type of TPMS system:
Type of TPMS frequency:
Type of Relearn procedures:
OBD relearn,

requires OBD module 
Type of TPMS tool required for TPMS reset
Direct TPMS system requires a TPMS scan tool with the OBD module to connect to the vehicle's DLC (

VT56

or VT46 brands), step by step relearn procedures are written in the tool.
Bonus coverage, OBD relearn procedure:
OBDII dongle is required 

Confirm TPMS sensors are properly installed 

Adjust tire pressures to placard value 

Hold TPMS tool on left front tire sidewall next to the valve stem 

Repeat for RF/RR/LR tires 

Apply OBD dongle to DLC 

Turn ignition to ON

Press OK on TPMS tool to transfer data to ECU

Disconnect OBD dongle from DLC 

Turn ignition to OFF then ON 

Wait for 5 minutes 

Drive for up to 20 minutes at 12 MPH 
The video above shows the Hyundai Azera, but the same procedure will work on the Hyundai Santa Fe.
Troubleshooting tips
Hyundai Santa Fe – Which frequency is your vehicle manufactured with? 
From the main menu, select "PROGRAM." Second, choose "MAKE" and choose Hyundai Santa Fe and the year you are working with (Make, Model, Year). Next, choose the senor you want to work with. Select "CREATE" and you will be able to see the sensor frequency of the vehicle. See the tables below for a quick reference. 
| | |
| --- | --- |
| Hyundai Santa Fe | TPMS Sensor Frequency  |
| 2007-2018 | 315 MHz |
| 2019-2020 | 433 MHz |
| 2019 XL  | 315 MHz |

Tip 2:
According to the Hyundai Owner's Manual, when you drive your vehicle from a warm area to a cold area or from a cold area to a warm area, or the outside temperature is greatly higher or lower, you should check the tire inflation pressure and adjust the tires to the recommended tire inflation pressure.
TPMS DTC code information
Use the VT56 to retrieve Hyundai TPMS DTC codes by selecting the "Service" icon. After selecting the Make, Model, and Year select the DTC code icon. Use the OBDII module to retrieve the Hyundai DTC TPMS information to diagnose and service the TPMS issues determined.