ATEQ TPMS Tools Welcomes Wladimir Sarmiento Gonzalez, 2018 National Summer Intern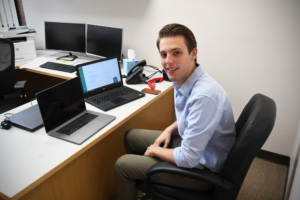 Livonia, MI – ATEQ is delighted to welcome and work with Wladimir Sarmiento Gonzalez this summer as an intern for ATEQ TPMS Tools at the USA headquarters in Livonia, Michigan. He is scheduled to work with the TPMS team for 10 weeks this summer, working closely with Fatema Shafiee, Financial Controller, and Hong Le, Accountant at ATEQ.
"I am excited to learn more about financial processes in the workplace and how to manage funds. This experience will be extremely useful as it will help me grow my knowledge of business operations and increase my professional network," stated Wladimir.
Wladimir is a second-year student at the University of Chicago where he studies economics. In the fall, he will return to the university to continue his studies in finance and investment banking. He hopes to earn a Bachelor degree and possibly a Master degree in the future.
"We are thrilled to give Wladimir an opportunity to work with the financial department at ATEQ TPMS Tools. We hope his time here as an intern will expand his network, create educational challenges and increase his knowledge of financial operations with real-world situations. We welcome Wladimir with open arms and we are excited to see his progress," stated Eri Muca, North American Sales Manager.
Wladimir was born in Venezuela, and is a native Spanish-speaker. He grew up in Buffalo, New York before his family relocated to San Francisco, California. In his spare time, he enjoys playing the guitar, building computers, and playing computer and video games. Aside from studying economics, he enjoys learning more about media studies; writing movie reviews, writing scripts and producing small films at the University of Chicago.