Livonia, Michigan – In honor of National Tire Safety Week, ATEQ TPMS Tools is proud to announce a partnership with Matt Sledge from Techs Choice Tools and Equipment for a Free Tool Friday giveaway. Participants can follow their Facebook Page, and on Friday, May 25th, the announcement of how to win will be broadcasted.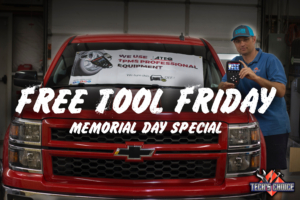 Techs Choice Tools is an independent tool company that services Murfreesboro, Smyrna, LaVergne, and Antioch, Tennessee. They have been in business since 2001.
"I started out as a Cornwell dealer in 2001 and decided to start Techschoice Tools and Equipment in 2007 as an independent dealer. We have grown into a two truck team and are currently serving all or Rutherford County and most of lower Davidson County [Tennesee]. We are looking forward to expanding in 2018 to Wilson County so we can better serve our customers." said Matt Sledge, Founder and Owner.
Techs Choice Tools has a large social media following on Facebook, with nearly 3,000 followers. View the page at facebook.com/Stangcycle.