Education is key to make the sale. Explaining TPMS services and making education part of the experience for a customer will build trust and credibility. Most drivers have not grown up with the knowledge of what TPMS is, so your customer may not understand why TPMS service is necessary.
"Show it and sell it"
The customer most likely does not know what a TPMS sensor looks like since it is hidden within the tire. Go further with educating a customer by showing them a TPMS sensor and show them how it communicates with the vehicle to keep them safe on the road. If there is a damaged sensor, it is best to show the sensor with a dead battery or a damaged grommet, so they understand what they are paying for.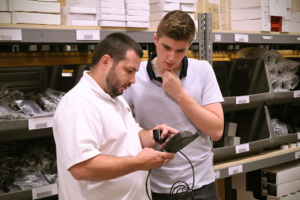 Another way to "show and sell" is by displaying sensor and tool information at the counters or in the lobby. While they wait for the diagnosis of their vehicle services, they are able to read and understand TPMS a little better, so when it comes time for the technician to talk to the customer, they already have the information embedded in their mind.
On another note, it is always good to have more than one aftermarket sensor brand in the shop and have a tool that supports multiple aftermarket sensor brands. Different brands carry different coverage, and not all aftermarket sensor coverage is 100%, so if shops carry more than one brand, they are guaranteed to be able to work on their vehicle; thus, making sure not to turn customers away.