Livonia, MICH. (May 5, 2020) –  COVID-19 has upended daily life, affecting work and school schedules, sports and how we interact with one another.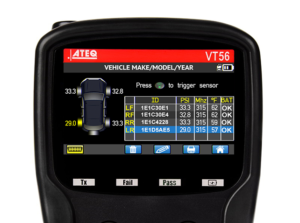 While this situation is unique, it should not affect how vehicles should be cared for. With travel decreasing, cars across the country are sitting idle in driveways and garages. This can lead to expensive, preventative problems.
When vehicles remain idle for long periods of time, the tires will begin to deflate. The tires will lose air pressure unevenly, which can lead to bent rims. 
To prevent expensive repairs, drive the vehicle one to two blocks a couple of times per week to ensure the tires remain properly inflated. 
Users can also check tire pressure by using the ATEQ VT56, VT36 or branded VT46 tools. Simply scan the TPMS sensor to view all sensor information, including the tire pressure. 
###
We appreciate the trust that you place in ATEQ TPMS Tools. We will continue to closely monitor the situation and take actions necessary to help keep our employees and customers safe while providing the products and services you need to run your business. 
Sales – sales@ateqtpmsusa.com 
Marketing – marketing@atequsa.com 
Technical Support – 888-621-8767 or support@ateqtpmsusa.com 
About ATEQ TPMS Tools 
ATEQ TPMS Tools, LC is a division of ATEQ which was founded in 1975. We are the number one world supplier in the TPMS (Tire Pressure Monitoring System) field by supplying an entire range of TPM activation tools for both assembly lines and tire repair shops. 
Media contact
Emily Humpert – ehumpert@ateqtpmsusa.com