TPMS Reset, Trigger, and Programming Tool
As the successor to the VT36, the brand new VT37 is the ideal tool for DIYers, technicians and front counter workers. The tool is designed to activate, read and service all major OEM & aftermarket sensor brands, as well as perform vehicle-specific TPMS relearn procedures. Quarterly updates allow for the newest TPMS sensors to be added to the tool effortlessly. Whether it's stored in a glove compartment or toolbox, the VT37 is the perfect partner for servicing TPMS.
PN: VT37-0000
Features
Activate and display all sensor data in seconds: ID, tire pressure, tire temperature, and battery status etc.
Comprehensive make, model, year specific relearn procedures, with instructions, built-in
Activate, read and service all major OEM & aftermarket sensor brands
Program over 20 aftermarket sensor brands
Search TPMS sensor replacement part numbers
Test vehicle keyfob signal strength/battery status
Interface available in 19 languages
Gallery
VT37 Comparison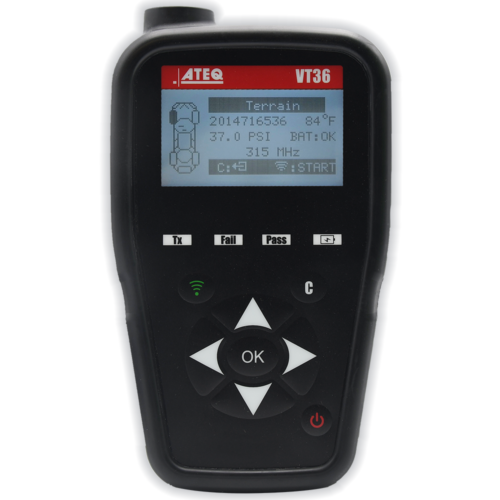 Activates all OEM sensors, displays all sensor data
Worldwide vehicle coverage, always up to date
Programs universal sensors (configurable, hybrid, ID copy etc.)
Provides TPMS relearn procedures on-screen
Indicates OE sensor and service kit part numbers
Tests Remote Key Entry (RKE)
Displays TPMS data for up to 7 tires in one screen
Full-Color LCD Screen
Manuals & Product Info
Manual
Need more information on how to use the tool? Check out manuals and other informational materials here.
Select language VT37
Factsheet
Here you will find various tool specifications and other helpful documents to help you get to know the tool better.