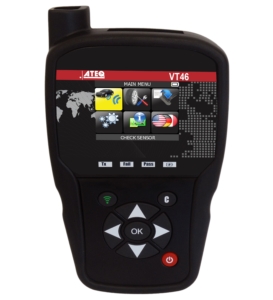 ATEQ is proud to announce the January software release for the ATEQ VT46 and all branded versions of this tool. The software update includes new OE coverage, improved programmable and new sensor coverage.
New version now available:
–    VT46 version Dx1-11-10
New content for Europe:
We have integrated all Models 2018 for all brands.
We've added brand new cars from the following brands: Audi, Bentley, BMW, BMW, Dacia, DS, Ferrari, Ford, Genesis, Honda, Jaguar, Lamborghini, Lexus, Mercedes, MG, Mitsubishi, Nissan, Porsche, Skoda, Ssangyong, Subaru, Tesla, Toyota, Vauxhall and Volvo.
The OE sensor information for certain vehicles of the following brands has been updated: Alpina, Aston Martin vehicles, Audi, BMW, Cadillac, Dodge, Dacia vehicles, Fiat, Ford, Citroen, Chrysler, Hyundai, Infiniti, Kia, Mercedes, Mitsubishi, Nissan, Opel, Renault, Subaru and Vauxhall.
New aftermarket sensor coverage has been added for: Schrader EZ-sensor, Alcar by Schrader, Italsensor, Alligator Sens-it, HUF Intellisens, Hamaton EU-Pro/T-pro, and ORANGE DirectFit/Universal EU and Mobiletron.