VT67
Complete TPMS & Tire Management Diagnostic Tablet
With interactive menus, complete TPMS diagnostic capability, and even built-in support, the VT67 will completely re-imagine the way technicians diagnose and validate TPMS systems. The tool boasts over 30 features and functions, as well as a built-in camera to document any vehicle issues, which can then be added to a complete TPMS report and emailed to the customer.
PN: VT67-0000 (Tool w/OBDII)
Features
Secure Gateway (SGW) ready for Stellantis vehicles
Save, manage, and edit customer jobs and reports on the cloud
100% coverage for Domestic, European, and Asian vehicles
Program & clone 20+ aftermarket sensor brands
WiFi & real time updates, powered by Live Sensor™
Export & send complete customer reports via email
TPMS sensor and service kit image library for easy reference
ID Match functionality to troubleshoot and repair TPM systems
Tire Management: tread reading, wheel inspection, tire registration
VIN Scan for vehicle selection
Read & clear TPMS DTC codes
Change placard values when swapping tire sizes
Built-in HD camera for accurate vehicle and wheel inspection
Complete how-to guides and training videos built-in the tool
Email tech support directly from the tool
Gallery
VT67 Comparison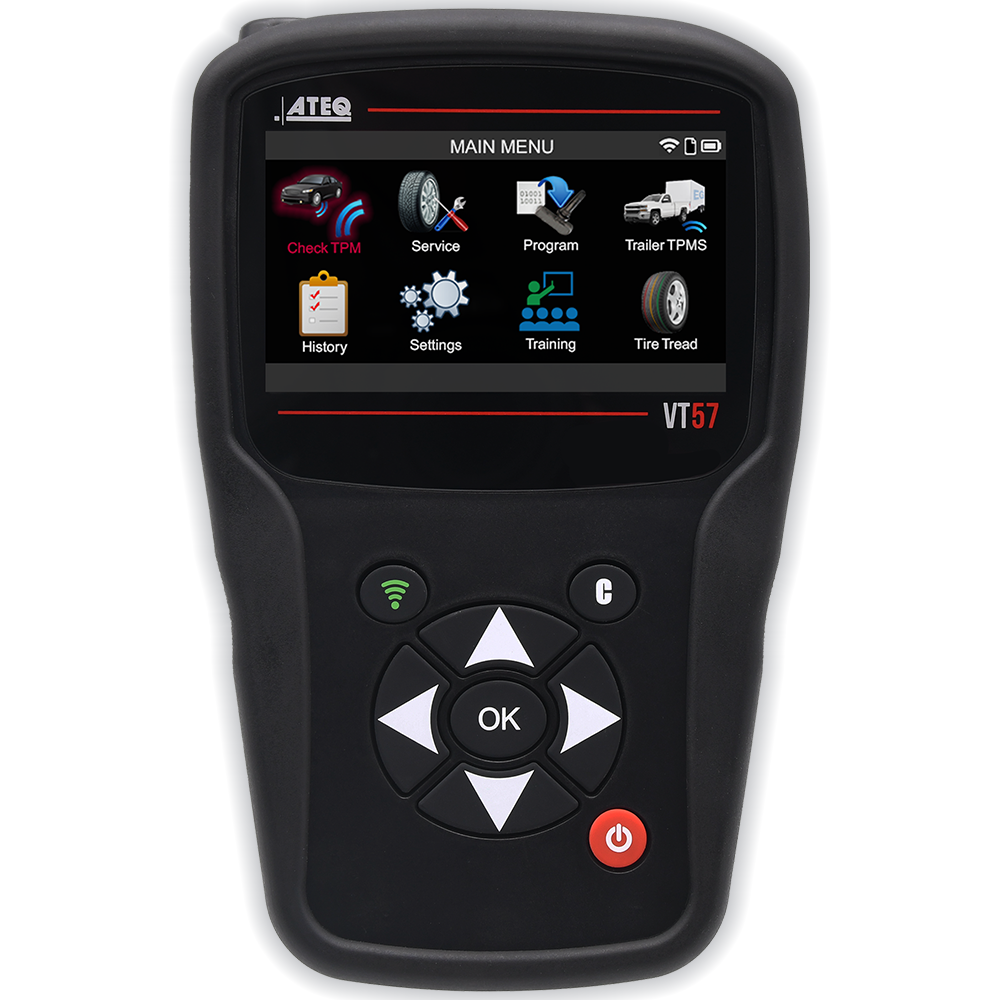 Make, Model, Year lookup via VIN scan
Activates all OEM sensors, displays all sensor data
Worldwide vehicle coverage, always up to date
Ability to reset vehicles via both manual and OBDII relearn
Programs all leading aftermarket sensor brands
Provides TPMS relearn procedures on-screen
Indicates OE sensor and service kit part numbers
Displays TPMS data for up to 7 tires in one screen
Supports Placard Adjustment
Read/Clear TPMS DTC Codes
Tire Tread Depth Functionality
Record DOT information
Built-in HD camera for accurate vehicle and wheel inspection
TPMS sensor database with images ( technician can see what part they need to use OEM or aftermarket)
Database with service kits images along with proper torque spec
Create Customer profiles, save in tool and revise for new service
Tire Management (DOT, Wheel Inspection, Etc.)
Manuals & Product Info
Manual
Need more information on how to use the tool? Check out manuals and other informational materials here.
Select language VT67
Factsheet
Here you will find various tool specifications and other helpful documents to help you get to know the tool better.