Meet the team: Brian Phipps, ATEQ TPMS Validation and Technical Support Technician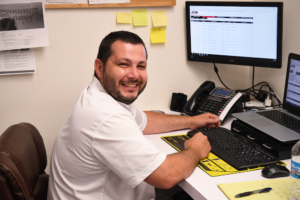 Brian Phipps began his career at ATEQ in September 2016 part-time in the shipping department but was quickly moved up to a full-time position as a Quality Control Specialist. ATEQ management was impressed with his superb customer service skills and ability to quickly learn about TPMS tool technology and the tire industry, and in March 2018, it was announced that Brian moved up the ladder again and he now holds the position of Validation and Technical Support Technician. He splits his time between working with the technical support team and database validation team.
"It has been fantastic to have the opportunity to learn more about TPMS technology and our tools. I am lucky enough to test and validate vehicle and sensor data for our software, which will definitely help when working with customers on the phone and email in the future," commented Brian. "I've learned a lot about what resources help our customers the most in the shop since working in tech support. I feel I can help our customers learn the tool quickly and easily as I gain more knowledge of how the tool functions, and how it responds to the software. It is great having the ability to reach out to customers and help them learn more about the equipment they invested in. Our technical support team puts a lot of effort into giving the best customer service possible, by educating customers about TPMS as well as helping them solve their issues."
Before working with ATEQ, Brian earned an Associate degree at the Culinary Art Institute in Novi, Michigan with the dream of owning his own restaurant one day. When he began his career at ATEQ, he became more interested in the automotive industry and plans on continuing his career in the industry.
"Since working at ATEQ, I have learned a great deal about how fast-paced the aftermarket industry is, and how large TPMS technology plays a role in shops and distribution. It's amazing to see how much our technical support team helps to educate and engage with technicians. TPMS has grown significantly in the last ten years, and it is exciting to see how much it will grow in the future."
Brian is originally from Detroit, Michigan. He grew up in Farmington Hills and has stayed in the Metro Detroit area his entire life. In his spare time, Brian enjoys to spend time with family and friends, stay active, work on his vehicle, and whenever possible, enjoys traveling. He plans to continue his career at ATEQ in the OEM or Aftermarket sectors and is excited to see where his career will take him in the future.