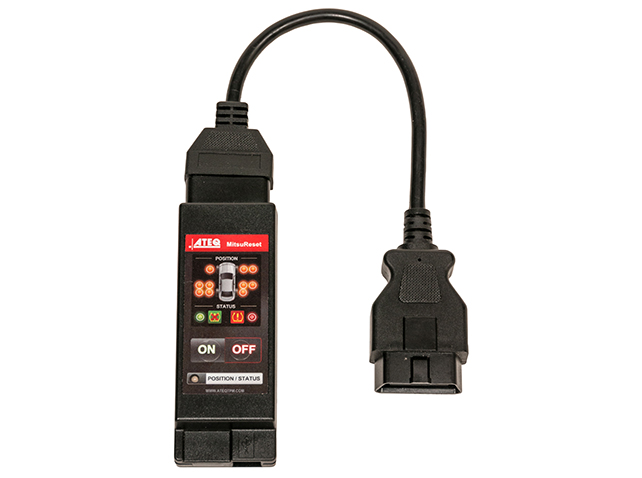 Mitsureset
UNIVERSAL TPMS ECU RESET
The Mitsureset enables TPMS relearn mode on most Mitsubishi vehicles. When connected to the vehicle's OBD2 port, it allows TPMS sensor ID's to be written to the ECU during sensor activation.
With the Mitsureset, tire shops now have a low-cost, simple solution for performing TPMS relearns on compatible Mitsubishi vehicles without the need for a scan tool.
The Mitsureset can be used together with the ATEQ VT55 TPMS diagnostic tool, VT46 TPMS tool, VT36 sensor activation and programming tool, VT30 TPMS reset tool, the VT15 TPMS activation tool or any other trigger tool. The VT56 and VT56 SE tools do not require the Mitsureset, where this functionality is included in the tool.
WHERE TO BUY
Mitsureset
features
Puts ASX, Eclipse Cross, Lancer, Outlander, Outlander Sport, and RVR TPMS in learn mode.

To be used with any ATEQ TPMS trigger or diagnostic tool

Replaces the OEM scan tool

Fully updateable via PC

Worldwide TPMS technical support
Pair Mitsubishi TPMS sensors with the ECU in a few seconds
Connect the Mitsureset tool to the OBD2 connector of the vehicle

Turn ignition on

Press the Mitsureset "ON" button

Use TPMS diagnostic tool to trigger TPMS sensors

After triggering all TPMS sensors on the vehicle, the green light on the Mitsureset tool will turn solid indicating successful loading of the new TPMS ID's in the ECU

Turn ignition off and disconnect the device from the vehicle, the TPMS light of the vehicle will turn off
Mitsureset
specifications
In the box
Mitsureset tool

USB 2.0 cable

OBD2 extension cable

Quick start guide
Mitsureset
---
| | |
| --- | --- |
| Size (HxWxD) | 114 mm x 39 mm x 18 mm (4.5" x 1.55" x 0.7") |
| Weight | 0.1 kg (0.2 lbs.) |
| Warranty | 1 year |
Database includes
---
| | |
| --- | --- |
| Compatible cars | Mitsubishi ASX, Eclipse Cross, Lancer, Outlander, Outlander Sport, and RVR |
| Software updates | Free lifetime updates |
Part numbers
---
| | |
| --- | --- |
| Americas | OBD5-M000 |
| Europe + MEA | 6660214 |
Mitsureset
factsheets
Detailed information about the Mitsureset including features, specifications and more.
Visit the Mitsureset
support page